The spectre of Covid-19 is not over yet. With the increase in uncertainty of what is going to happen next, we have learned how to make these testing times eventful. The last few months of the year 2021 have been an action-packed one. We worked tirelessly not just to attain our vision of 'Making Young Lives Shine' but to ensure that the process to attain it was a blissful one.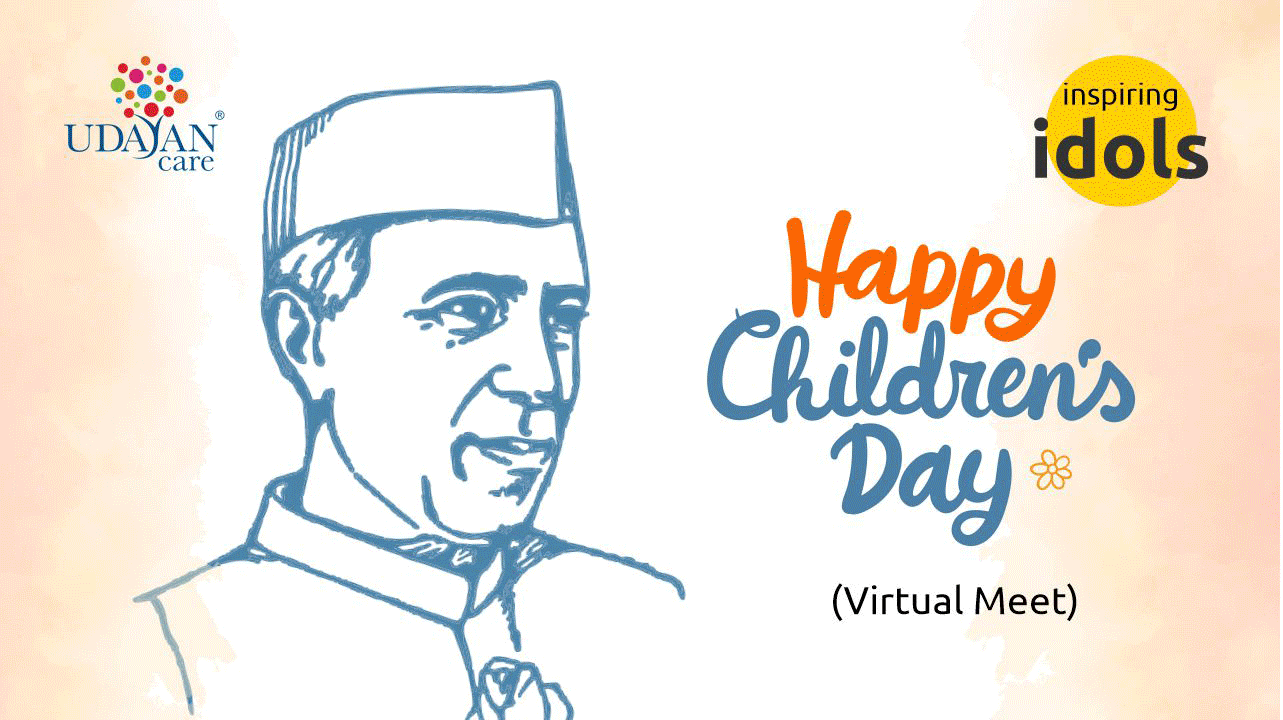 The Inspiring Idols series continued and organised 2 planned virtual events on Gandhi Jayanti and Children's Day in October and November respectively, followed by Dr. Radhakrishnan Jayanti earlier, as reported in the previous newsletter. Unpacking the values and teachings of Mahatma Gandhi (Bapu) and Pandit Jawahar Lal Nehru (Chacha Nehru), the events sought lively participation from child protection functionaries such as CJMs, DCPOs, DCPUs, CWCs and local donors, respectively in the two events. From Dance to theater to group song, shadow puppetry, our children did it all. These events also presented us with the opportunity to acknowledge and extend gratitude to child protection functionaries and local donors for their unstinted support and love for the children and Udayan Care.
Additionally, a Baal Mela (Children's Fair) was organized, at our Gurugram Boys Home, under the guidance of Justice S.P. Singh from Narsinghpur, Gurugram. Children from both Gurugram Udayan Ghars and some other organisations were also a part of this cultural event and participated in various competitions.
There was yet another online event, organized by adidas, who had joined the Ghar children on 15th November to celebrate the Children's Day. Adding to the excitement of children, we organised exciting events, such as "Quiz Competition", "Scavenger Hunt", "Recreate a Scene", "The Cookery Competition" and many more fun activities. adidas also gifted our children boxes containing diyas, chocolates, sweets, fairy lights and other decorative stuff and tons of happiness was delivered at each of the 17 Udayan Ghars on the occasion of Diwali. Realm of joy, gleam of diyas, ghars decorated with twinkling lights, and the big wide smile adorned our children's faces.
Missing Child reunites with family after 3 years
Fatima (name changed) went missing from her home at the tender age of 8 years. She was rescued by the local police in Khora Colony, near Ghaziabad, and was eventually transferred to Udayan Ghar, Ghaziabad, through Child Welfare Committee (CWC). Due to the counselling, care and love given to her at the Ghar, she recalled a few details about her home. The team at Udayan Care worked tirelessly to reunite Fatima with her family and one fine day they were able to.
It was such a tearful, emotional reunion.
Udayan Shalini Fellowship teams, including core committee members, mentors and volunteers, have worked diligently at the ground level to induct the most deserving fellows for FY 2021-22. We have inducted 1019 Shalinis across the country in cities like Paghwara, kurukshetra, Agra, Baddi etc. in the month of October and November.
More to follow in upcoming newsletter.
Celebrating the Joy of Giving
Celebrating Daan Utsaav, from October 2 – 8, the 'Joy of Giving Week' every year, when the start of the third quarter brings in the season of festivities and people from all quarters come ahead to give to others, and spread happiness, our beneficiaries went ahead and shared their gifts with the less advantaged. Shalinis, across the chapters, distributed books, stationary items, clothes, masks and medicines, visited old age homes and orphanages to spend some time with children and elderly people. This little effort made by the Shalinis made them self-aware about the importance and the joy of giving back to the people and contribute to the society.
Our students from our IT centres also came forward with interesting ideas. A group from Vinod Nagar centre organized a "Nukkad Naatak" in a slum area to create awareness about the vaccination and how young children can be protected from corona virus, whereas our Badarpur center students packed some hygiene kits with COVID essentials and distributed the same in the nearby slum community.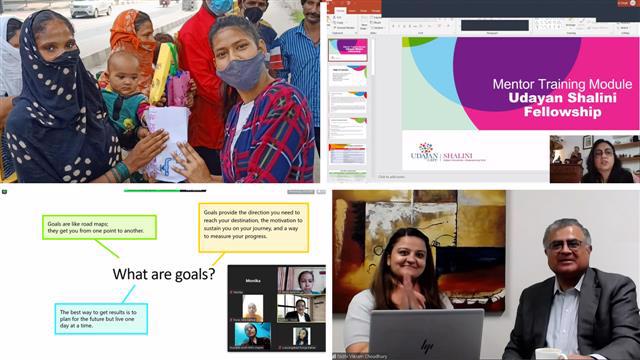 Trainings and Sessions: Our Shalinis attended Mentor Training workshop and Deloitte Impact day
Workshop and learned Academic preparedness and financial literacy and savings. Approximately 950 Shalinis were part of these sessions across all Chapters. Some of these workshops were also held in person and some online. The major topics of discussions within this workshop was Financial literacy, academic preparedness, Formal communication etiquette etc
Success Story: Arushi Saluja, North Delhi
With great pride we share that, one of our Shalini Arushi Saluja from Batch 18, recently passed class 12th and secured 94. Her excitement knew no bound when she received a laptop from the Deputy CM, Mr. Manish Sisodia. The constant love and support of the USF functionaries have motivated her to excel in her life further.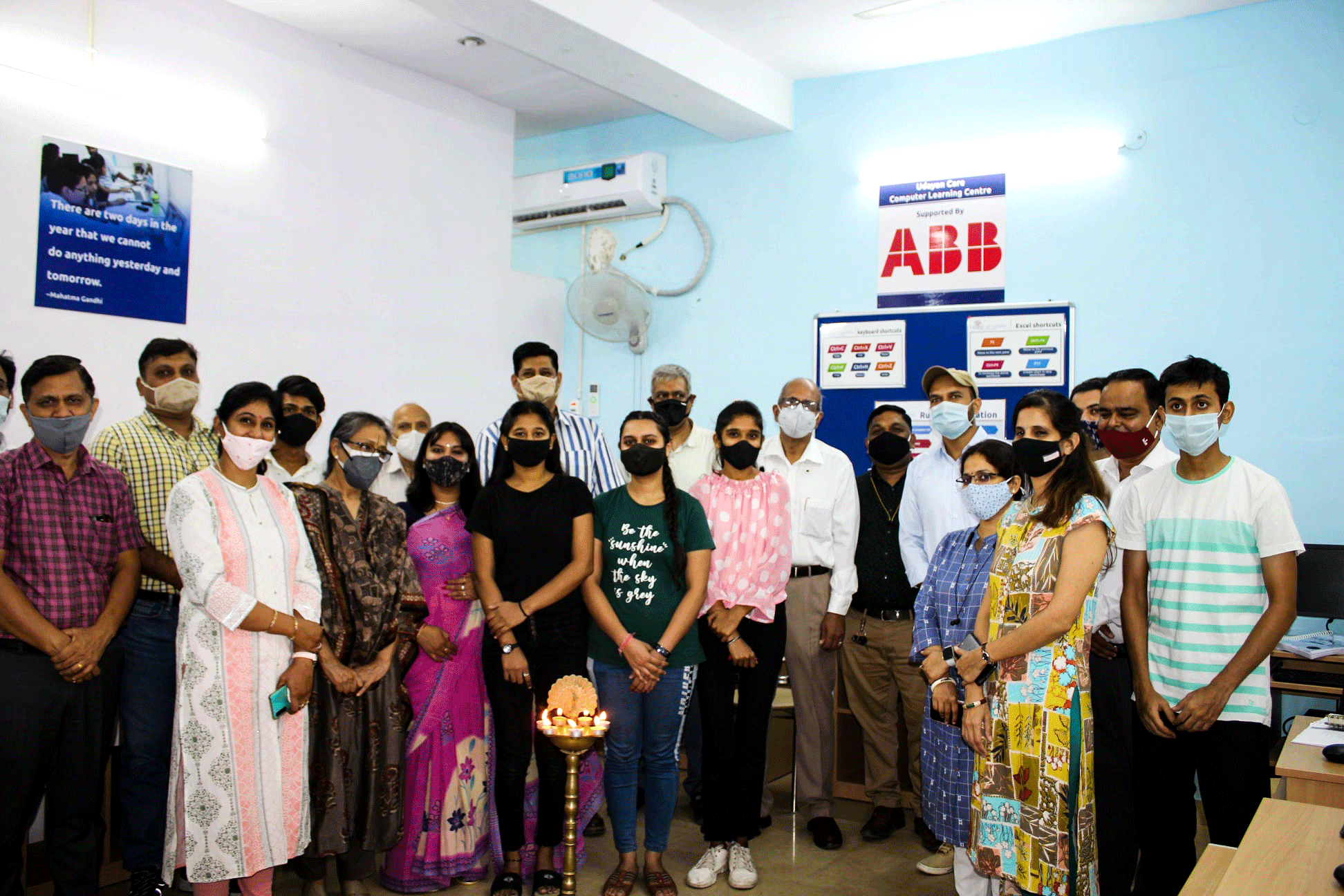 Inauguration of the 15th Udayan Care IT Centre in Faridabad in partnership with ABB.
On 11th Oct' 21 Udayan Care Computer Learning Centre, Faridabad our 15th IT Centre was inaugurated with the kind support of ABB. Our chief guest, Shri Dheeraj Prasad Ji (Vice President (Plant Head) – ABB Motor & Generators, FBD) and his team members were welcomed by Dr. Kiran Modi (Managing trustee), Shri Deepak Sharma Ji (Trustee) & Shri Manoj Shrivastava (Assistant Director) from Udayan Care. The ABB & Udayan Care team lit the lamp and cut the ribbon to formally inaugurate the center for the underserved community youth.
On ground actions and achievements
On the glorious occasion of 152th Gandhi Jayanti, GCF India organized a youth leadership summit on 2H "Hunger to Health" & 2E "Education to Employment" aiming to highlight innovative initiatives and explore optimum means to a roadmap of SDGs in the current age of pandemic. Through role plays and PPTs, our children were able to explain why education is important for employment and their hard work & dedication has taken them to earn a rank in the top 6 presentations, being selected for enactment as the final presentation during the event, before the representatives of the UN.
Our students in IT Centres attended Life skills training session by Modicare Foundation, where issues like sexual harassment, bullying etc. were discussed about. Additionally, 26 students got selected through the placement drive hosted by Konexions Back Office Services Pvt. Ltd. (Lajpat Nagar, Delhi) and remaining students qualified for next round in their office.
Pratima – A student at DIT Bhangel IT Centre
When no stone is left unturned it results in aspirations coming true. Pratima's father switched to Noida from a small village of West Bengal, prioritising in giving a better livelihood to his family. After completing her studies, she got connected with Udayan Care's Bhangel IT Centre to hone her computer skills. After completing 4 months training in Diploma in Information Technology (DIT) she got the opportunity to work with "Aashra Ultrasound Centre" as "Front Desk Executive" with 10000 Rs salary per month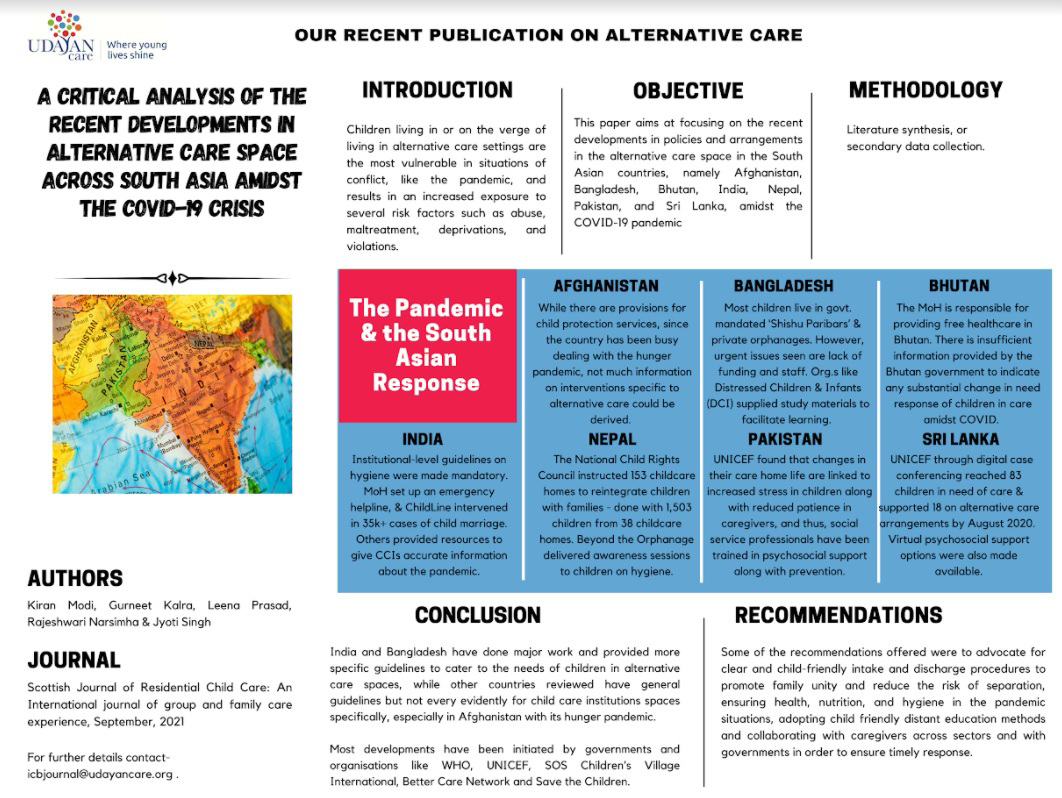 Udayan Care's Advocacy, Research and Training (A.R.T.) department has been conducting independent action based research in the field of alternative care, with an aim to build evidence, improve our own practices and also influence policy reforms. Recently, three of our papers based on our in-house research have been published in three different international journals.
"COVID, Its Impact on the Mental Health of Caregivers in Childcare Institutions of South Asian Countries and Their Coping Techniques", published in issue of institutionalized children Explorationn and Beyond Journal in September 2021. It documents the mental health status of caregivers (residential staff staying with children), in residential care spaces in the COVID times. The paper determines how the new stresses impacted them along with understanding the coping patterns they acquired in current situation; across different countries of South Asia, including Afghanistan, Bangladesh, India, Maldives, Nepal, Pakistan and Sri Lanka.
The paper titled "A Critical Analysis of the Recent Developments in Alternative Care Space Across South Asia Amidst the COVID-19 Crisis" published in September 2021, issue of Scottish Journal of Residential Child Care journal, provides an assessment of the recent developments in the social welfare policies in different countries to provide succour to children in institutional care in COVID-19 times, as well as its impact on the de-institutionalisation process.
The third paper titled "Standardization of a Participatory Questionnaire to Assess the (Fulfilment of) Needs of Children in Care (QANCC) In India '', published in the October 2021 issue of Journal of Child and Adolescent Trauma. This paper is based on a longitudinal study started since 2011 which was developed by Udayan Care with child participation as a core pillar in order to ascertain whether children in the Udayan Ghars perceived if their rights were being fulfilled and that their needs were being addressed based on four dimensions of basic/fundamental, emotional, educational, and interpersonal needs, on a four-point Likert rating scale. These papers are available on request.
On November 22nd, Suniti Dhindsa, Pamela Bhandari and Isabel Sahni, our voluntary Directors of our Skill Development Centres (SDC) visited Pauri Garwhal centre, and met the students and trainers there. Even though it has only been open to students for the few weeks, many students are enrolled in every course (Computers, Hindi Typing, Hospitality and Stitching and Tailoring). It was so heart-warming to see the progress of each of the trainees, particularly in how their self-esteem and confidence has grown. We have also discovered our guard, Santosh's, culinary skills and we are hoping to create a small cafeteria on the premises to enable the Hospitality students to get practical training in waiter service, etc.
Saying Goodbye is always difficult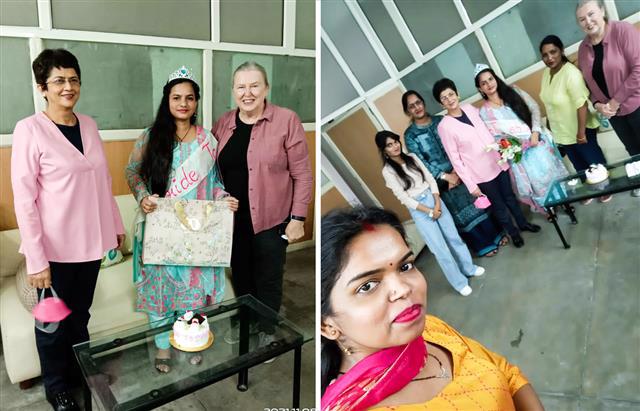 On 8th November, the staff and directors of the Greater Noida Skill Centre bade farewell to Archana, our Assistant Graphic Design trainer cum Administrative Assistant as she was an intergral part of the team. Archana first came to our Centre to learn Sewing and Tailoring while she was still in college. The directors encouraged her to learn Graphic Design from our existing trainer, after which, she became the assistant Graphic Design trainer. Over the years, she helped sell our Sukriti products at Diwali and Christmas melas.
As we move towards the end of the year, along with the year, we bid goodbye to all the negative memories of COVID 19, and with open heart welcome new opportunities, embrace growth with an ever-growing zeal to serve the children and youth, who need care and support. We believe that Udayan Care not only creates a family for the children but also together works as a family and imbibes the sense of community living within all its programmes.
Regards,
Team Udayan Care
Your one act of kindness is capable of transforming and empowering many vulnerable lives. Click here to Donate.
| | |