Investing in children and adolescents is vital, since they are the future of a country. According to the latest Census, more than half of India's population is under the age of 25. Working to empower and bring sunshine into the lives of children and youth from disadvantaged community, is a big step towards inclusive development. Each member of Udayan Care, works to bring happiness, dignity and growth into the lives of our beneficiaries through meaningful interventions and programmes. The smile we see on the faces of our children and youth works like an inspiration and that's the biggest incentive our work gives us.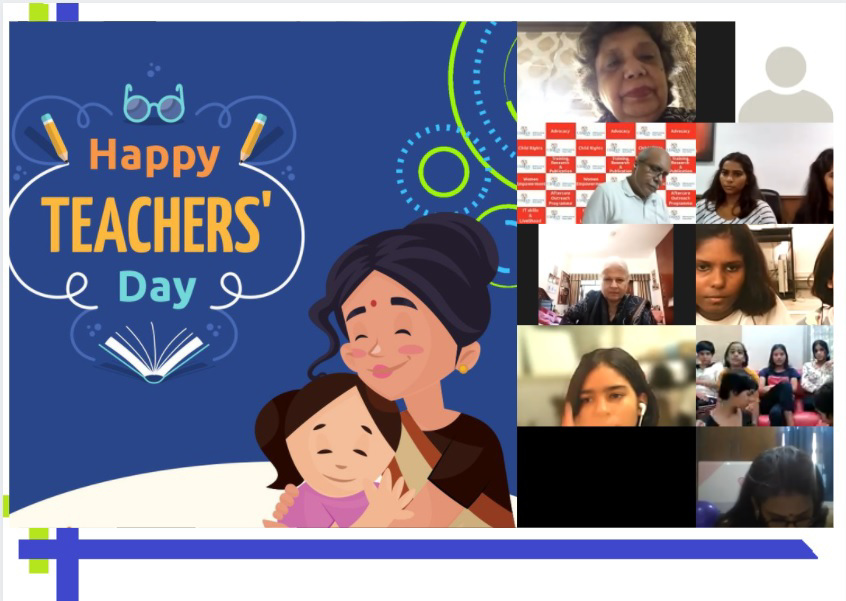 On the occasion of Teachers' Day (September 5th), we launched 'Inspiring Idols', a new series of 3 online events, dedicated to learnings from the lives of our great leaders, on 5th September, 2nd October (Mahatma Gandhi), and culminating in remembering Jawahar Lal Nehru on 14th November.The 2-hour long online event gave our children an opportunity to imbibe the values of Dr. Radha Krishnan, a great educationist and freedom fighter. The show was graced by the presence of Mrs. Gowri Easwaran, (Padma Shri awardee) and many heads, directors and principals of the schools, who have been our education partners and supporters over these years. The children showcased the value and importance of a teacher in the growth and development of students through skits, song, dance, and oration. This event was capped off with the children and Mentor Parents honouring the guests with heartfelt accolades, making it a memorable occasion.
Mr. Rajnish Virmani, our regular volunteer and Committee member, engaged our youth in a discourse on "Growing Up Better," a thought-provoking session that allowed our Young Adults to reflect on their future goals. Putting emphasis on three essential components of life: Purpose, Enjoyment, and Discipline. The programme also covered important considerations to keep in mind when making life decisions and pursuing objectives.
Environment Sustainability
With an objective to inculcate sensitivity towards the environment, the session conducted by Adidas focused on the concepts of reuse and recycle. Through hands-on activities and videos, the children were encouraged to utilise waste material at the Ghars. As a fun engagement, children also got a chance to show their creativity by decorating pictures of Adidas shoes and slippers using waste material readily available at the Ghars. The team also educated the children on harmful effects of plastic waste and engaged them in making paper bags.
Workshop on Happiness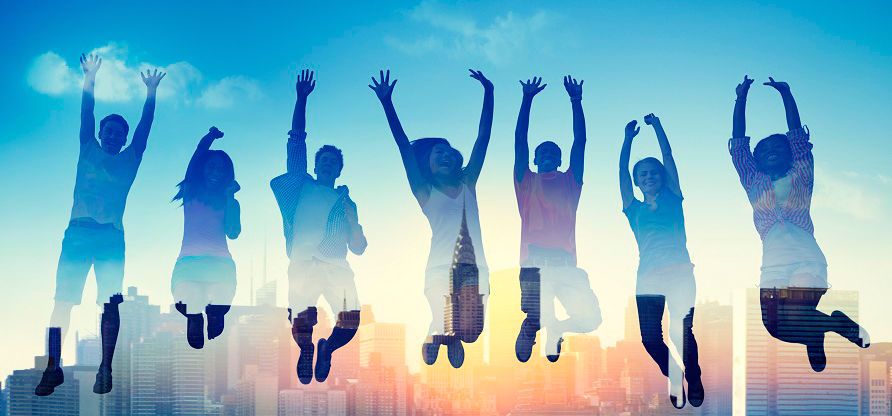 Optimism, focus, and gratitude are some of the key factors in achieving happiness. Mr. Neeraj Ghera, a renowned motivational speaker and photographer for the Times of India, a member of Art of Living fraternity, that taught youngsters how to cultivate a sense of appreciation, adopt the habit of meditation, and live in the present, as a way to living a happy and successful life.
Along with these our children also participated in events such as Independence Day celebrations, and workshops with Cognizant around Life Skills and Career advancement that enable children to enhance their confidence, build on perspectives about their future life and spend quality time drawing, painting and writing.
Inculcating 'Tech-Values' In The Youth
Despite significant historical cooperation in computer science, women continue to face challenges in achieving equity and parity in the IT workforce. But we, at
UCIT
(in all its 14 centres) have always believed in breaking down all such Gender Stereotyping. We feel proud to share that 30 of our girls successfully completed their trainings in Information and Technology courses at Kurukshreta Chapter. Mr. Deepak Kashyap (Sr. Manager – Administration), Ms. Meera Sawhny (Trustee – Udayan Care), and Ms. Sushama Sharma (Convener – UT IT Prog), attended the graduation ceremony to award them certificates and bless them for their future growth.
The Alumni Network was founded with the goal of teaching our centres' beneficiaries about "Giving Back to Society." Since then, we've developed a strong and wide network dedicated to this goal. On 3rd of August, one of our alumni, Gunjan (now working as a Data Analyst) from West Delhi IT Centre, held a session for the current Loni, Ghaziabad IT Centre beneficiaries. Gunjan shared her knowledge and skills that she gained during her official training. The major goal of holding this session was to encourage young people to become more interested in honing their MS Excel skills and pursuing a career in this field.
The 'International Youth Day of Clean Air for Blue Skies', commemorated.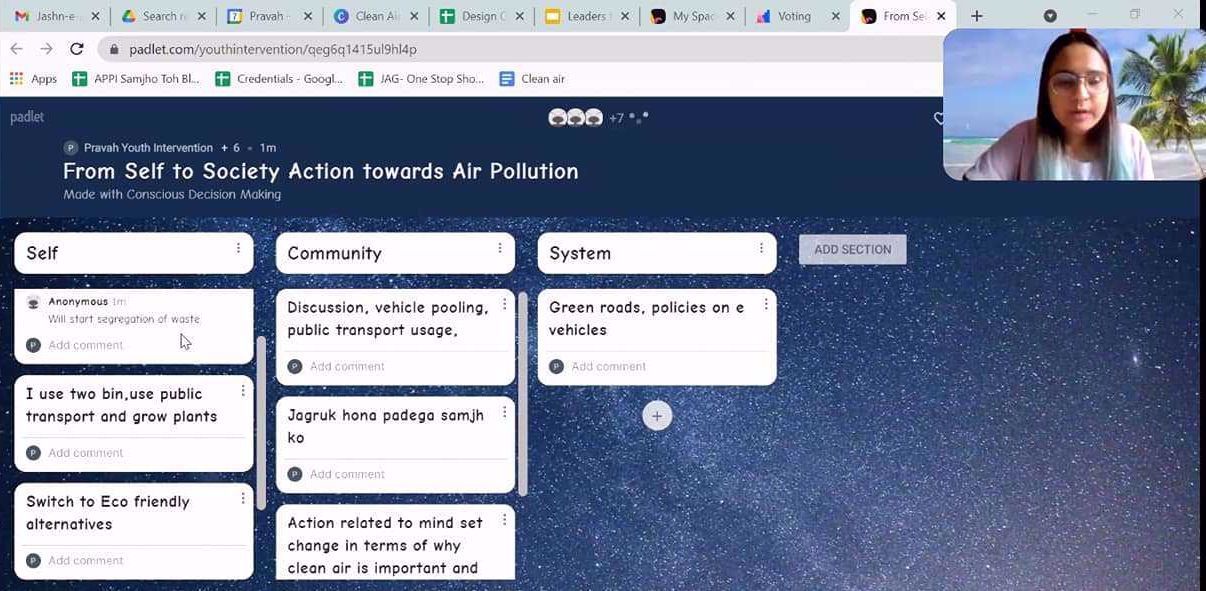 On the occasion of the 'International Day of Clean Air for Blue Skies', the PRAVAAH team hosted a workshop to celebrate this occasion. Udayan Care had 60 trainees attending this session, which was held in six UCIT Delhi locations. The session was both instructive and participatory. The attendees gained awareness about the importance of clean environment for better health, productivity, and economy as a result of this session.
Volunteering Week Observed With Tata Employees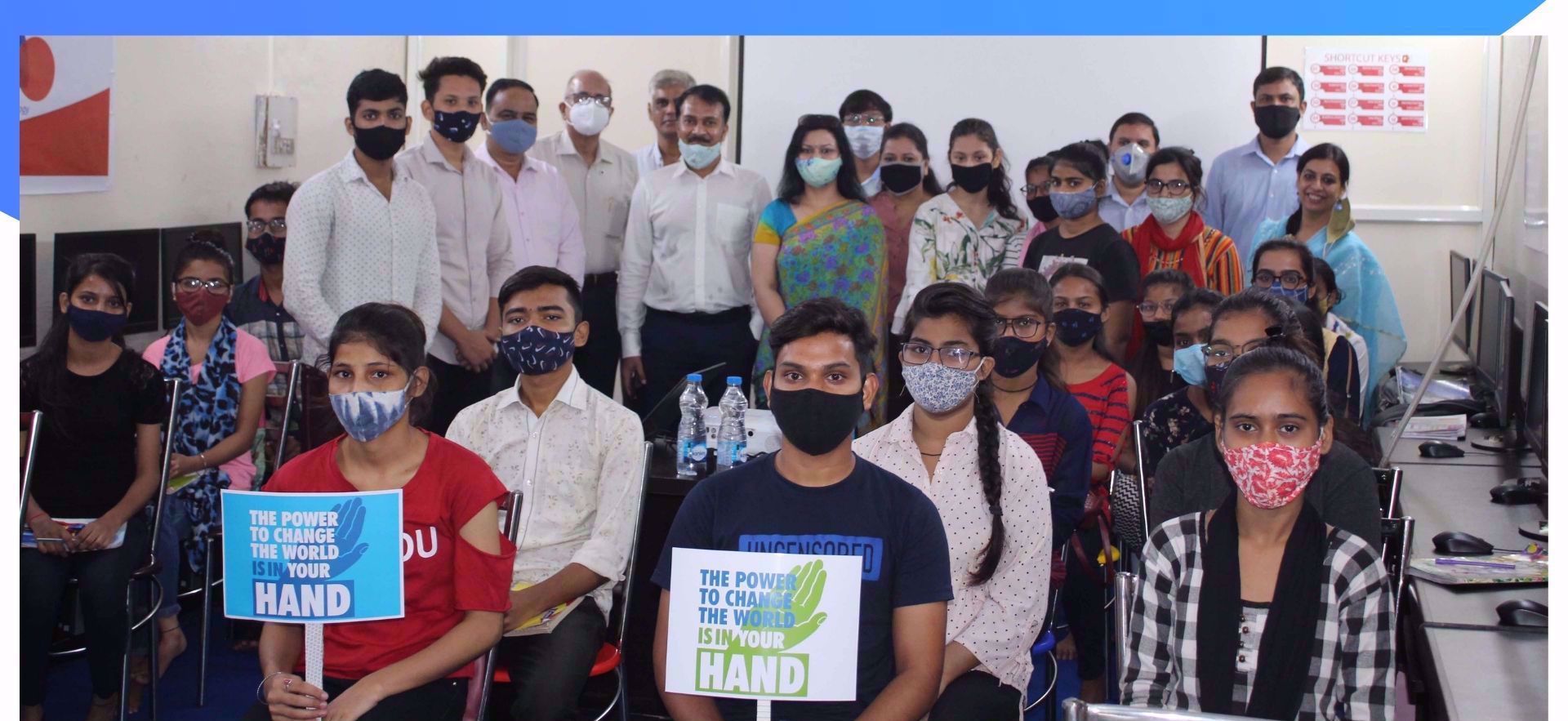 TPTCL (Tata Power Trading Company Limited) has been a long-time sponsor of Udayan Care. To commemorate Tata Volunteering Week, Mr. Amit Garg (CEO-TPTCL) visited our Noida IT Centre with his team, Ms. Neha (Company Secretary), Ms. Ritu Gupta (CFO), Ms. Surbhi (HR), Mr. Raunak, Mr. Manish, and Mr. Ravi (F&A Team). During their visit, Mr. Garg talked with our centre's pupils and discussed their professional goals. Ms. Surbhi conducted a one hour-long workshop on resume building, during which she coached students on how to create effective resumes.
Code Like a Girl
Simran, a young and enthusiastic girl, was introduced to 'Books for All' by her father, who works as a food item distributor, in local shops (field labour) to support his five children. Simran realised her responsibility to support her father financially, as the eldest daughter in her family. She started seeking a platform where she could join some computer course, which would help her grab a decent job. Simran enrolled in Udayan Care's Bhangel IT Centre's Diploma in Information Technology (DIT) programme.
Today, she works as a front desk executive (receptionist) for "S&S Care Skills Academy Pvt. Ltd." and earns Rs. 10000 per month. She believes that this is only the beginning of her journey towards realising her dream of clearing a good government job exam. We wish her all the best!
Making Their Place And "Giving Back" To Society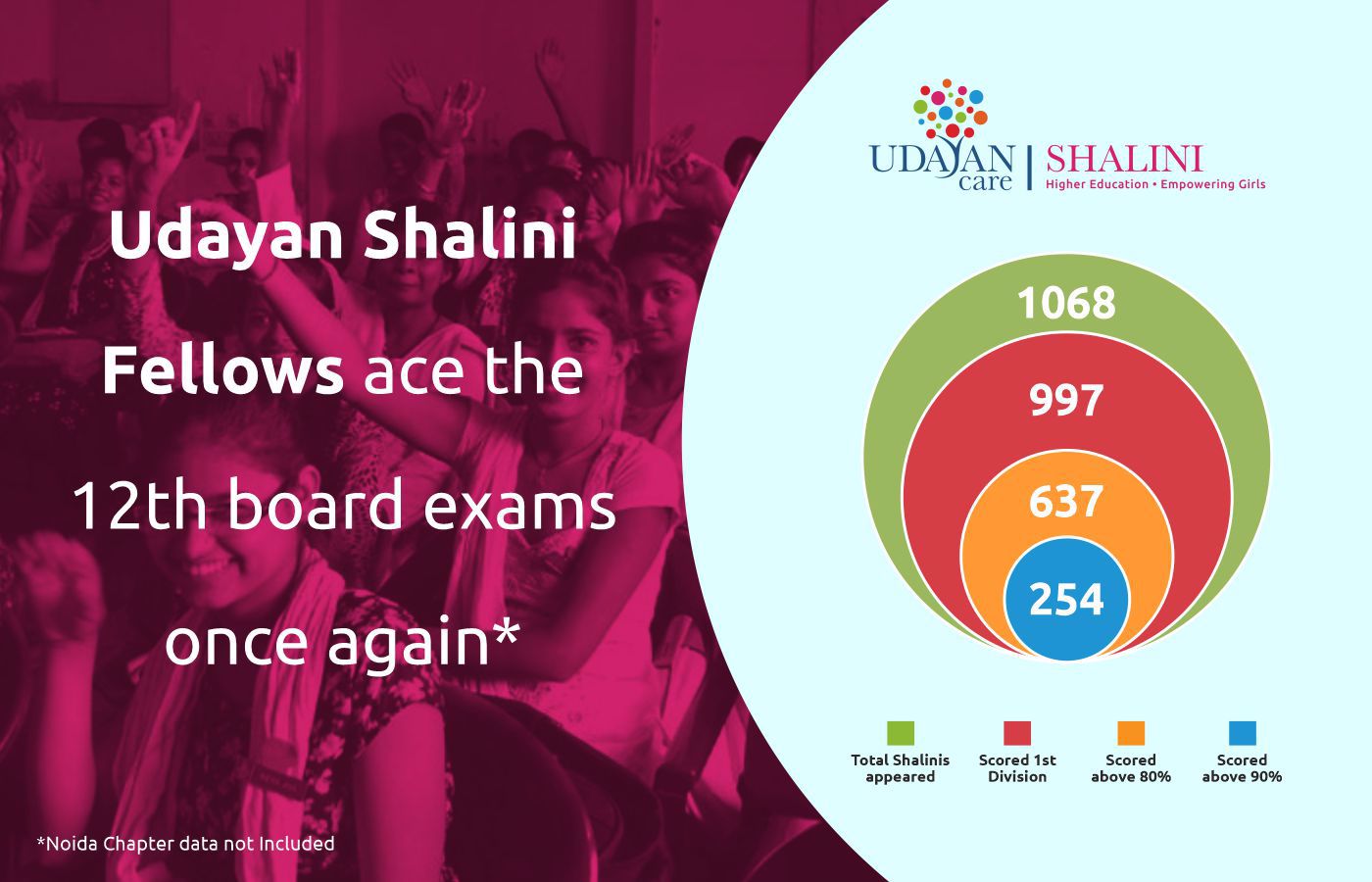 USF
is happy to share our Shalinis' amazing results in their recently concluded 12th grade board exams. Shalinis made their parents and the USF family proud by coming out with flying colours.
This achievement is all the more impressive because of the limitations forced on these students by the pandemic, challenges like sporadic shifting from offline and online modes, movement restriction due to lockdowns, and lack of digital devices, etc. With USF's active support in all these areas, and due to each and every Shalini's dedication, hard work, and passion, the development trajectory for Shalinis has been inspiring one.
Giving Back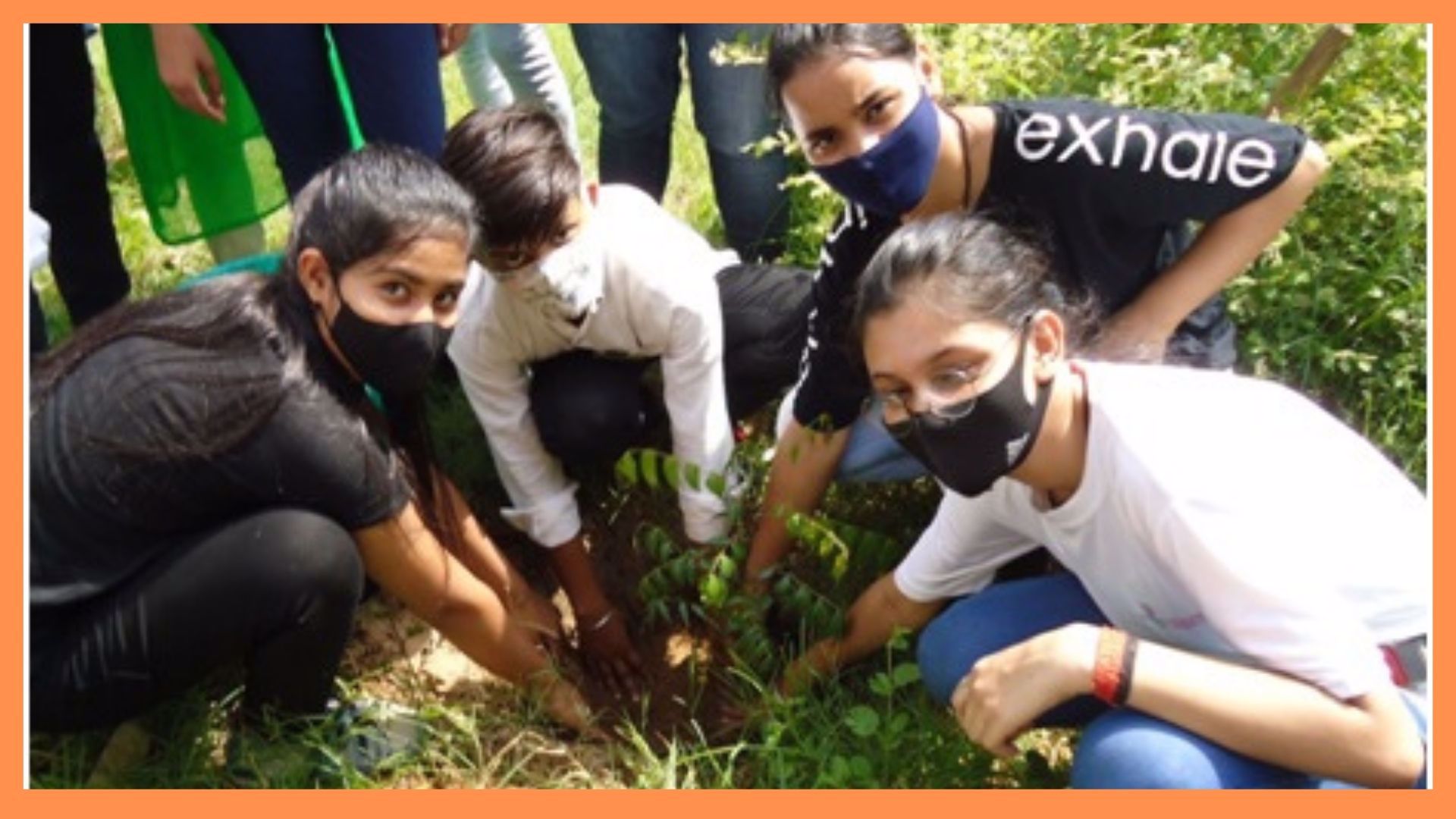 The Aurangabad chapter of the Udayan Shalini Fellowship (USF) partnered with CARPE Eco Sattva to clean up the KHAM river and plant trees. Anjali Auti, one of the volunteers, led the campaign, which was joinded by 22 Shalinis. Not only that, they also gathered 700 kg of waste from surroundings of the river basin, cleaned the region, including the garden area, and planted trees, in line with the vision of "Swatchh Bharat" of our honourable Prime Minister
On 13th of August, the Haridwar Chapter of Udayan Shalini Fellowship held a Tree Plantation Drive. The programme, began with a march from the USF Haridwar headquarters to Rishikul Park, in which a group of 20 Shalinis recited chants and showcased placards to raise awareness about the social and environmental benefits of tree plantation. The event was a good reminder to our Shalinis of their responsibilities towards nature and society.
On the eve of Independence Day, Udayan Shalini Fellowship, Jaipur Chapter organised a one-day cleaning campaign and tree plantation at Government Girls Senior Secondary School Malviya Nagar, Jaipur. The campaign included Shalinis from all batches.
Our Shalini A Covid Volunteer
Mrs. Priya, the founder of Golden Heart Foundation and a member of our Core Committee for the Tamil Nadu Covid Volunteer War Room Team, recommended A. Aajira for the position of 'Covid warrior': working online, talking with COVID patients about their food requirements, oxygen and ventilator needs, blood requests etc. She was also part of field work Volunteer team occasionally. Few NGOs like 'Mahadev Social Welfare Trust' recognised her work and gave her a certificate for "Good Humanity Service", Gold Heart Foundation honoured her with a "Certificate of Appreciation" for food distribution during the Covid crisis.
Strengthening Family-Based Alternative Care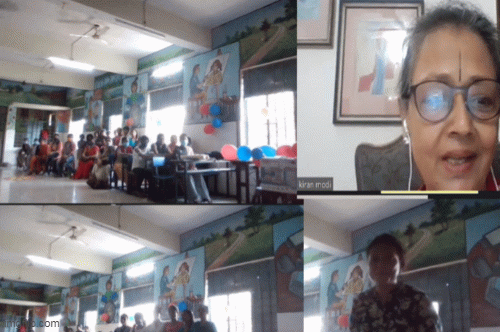 Strengthening Family Based Alternative Care with Focus on Aftercare in Bihar: Hausla Stitching Centre: An initiative supported by Social Welfare Department Bihar and UNICEF Bihar
Children who enter Child Care institutions have frequently suffered from several deprivations and are hence particularly vulnerable. Even while the Juvenile Justice (Care and Protection of Children) Act, 2015, as well as the Integrated Child Protection Scheme, include provisions for After Care, the actual problem lies in successful execution related to the legislative provisions of the stakeholders. . This necessitates thorough and well organised stakeholder trainings. An initiative for rehabilitation planning for children in Child Care Institutions was launched in order to assist improve the issue. In December of 2019, Udayan Care, in conjunction with UNICEF, launched an Alternative Outreach Program in Bihar. To work on skilling children, a Stitching Centre, named Hausla (Strength and as named by the children themselves) was set up at BalikaGrih, Nishant, Patna with the support of UNICEF Bihar and Social Welfare Department, Bihar. It's an undeniable fact that skill development is an important aspect when it comes to preparing children's mainstreaming into society.
The beginning of this journey, was when Udayan Care, as part of its project, was developing Individual Care Plans (ICPs) of girl's CCIs and Aftercare Home girls. ICPs becomes extremely valuable when it comes to setting individual plan of each child staying in CCIs for their holistic development as it ensures all the shelter need, legal identity, education and vocational needs, counseling services, restoration and rehabilitation plan. So, the first step involved assessment of the girls through the developed ICP's. Children who had interest in stitching were identified and approached with the idea of learning this through a resource person.
Initially children were a bit apprehensive about the training but the trainers efforts has helped to remove their inhibitions and now they have started taking initiative to learn, and are enthusiastically involved and have become peer facilitators in the process.
Udayan Care team is coordinating with agencies/companies to provide appropriate placement opportunities for girls who are aged 18 years and above and also exploring a sustainable approach that makes this intervention a model. With motivation, determination and right partnerships, 'Hausla' is surely pitched to turn "Young lives shine".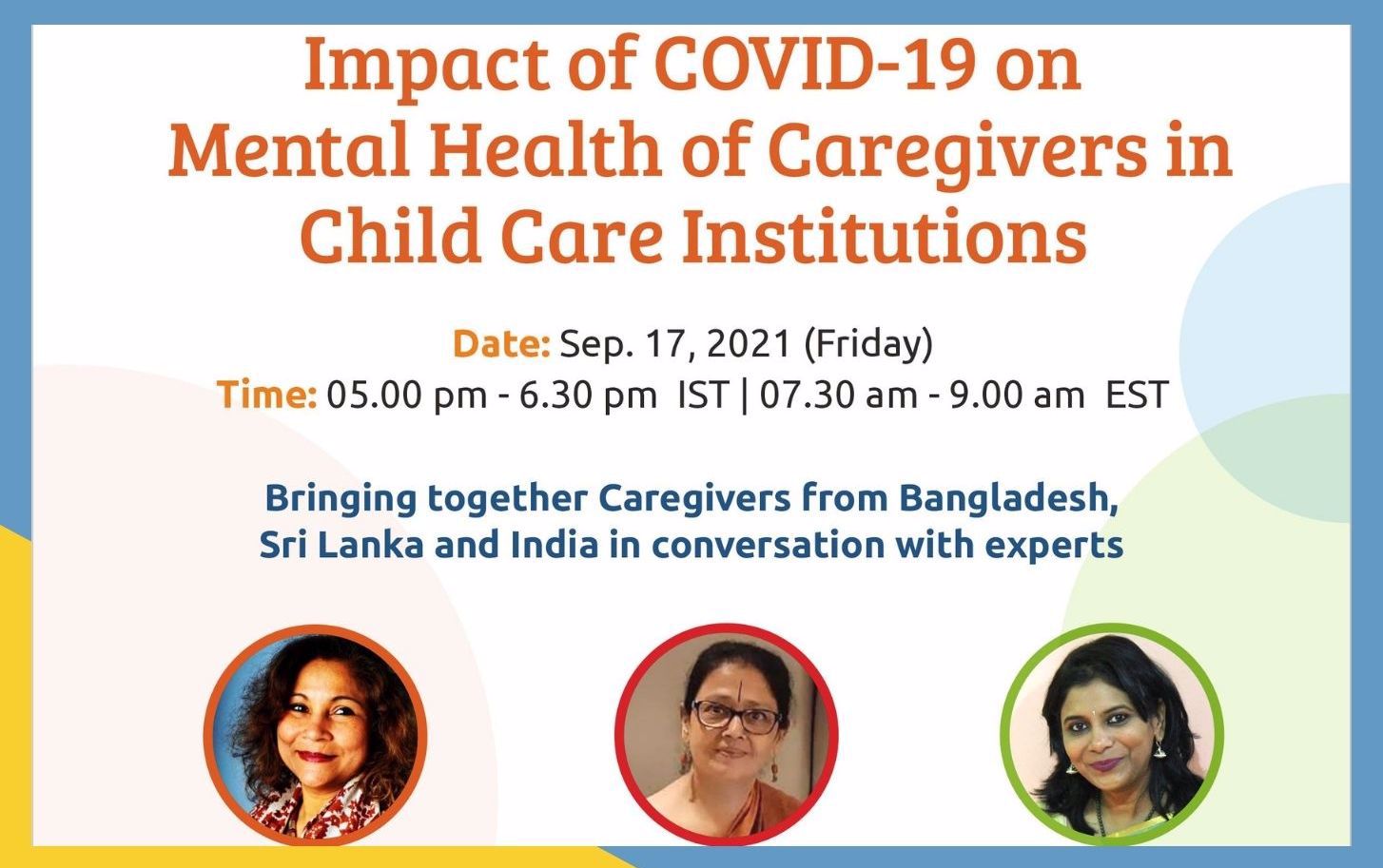 In the 16th issue of our international, bi-annual academic peer reviewed journal, "Institutionalised Children: Explorations and Beyond'' (ICB), released in Sept 2021, in partnership with SAGE International, we have emphasized on the general facets of Alternative Care.The issue covers concerns regarding the ongoing pandemic and beyond, along with issues relating to the ongoing management of children in care institutions. Drawing on some of the experiences and the research evidence of leading researchers and practitioners in the field, a webinar titled "Impact of COVID- 19 on Mental Health of Caregivers in Child Care Institutions" was organized on September 17th. This Webinar hosted 45 participants and brought together caregivers from Bangladesh, Sri Lanka, and India in conversation with subject experts like Dr Kiran Modi (Founder and Managing Trustee, Udayan Care; Liaison Editor, ICB), Dr Monisha Nayar Akhtar (Editor-in-Chief, ICB) and the moderator, Ms Shubha Murthi (Deputy Chief Operating Officer at SOS Children's Villages International).
We are also happy to announce our new partnership with Martin James Foundation. The project, tilted "Reintegration of Children restored back to their Families from Institutional Care in Delhi through Family Strengthening", focuses on effective reintegration post restoration to ensure prevention of re-separation as an essential principle of Alternative Care. It aims to establish a demonstrable and scalable model of supporting families whose children have change as done above sent back to them from children's homes in Delhi. It seeks to ensure appropriate follow-up and linkages to social welfare schemes for family strengthening so that the family can care for and protect their children as they live with them. Directly it aims to support 50 families in Delhi and NCR, documents the learnings, and create a standard operating procedure for the successful reintegration of children with their families and communities.
A group of students from two different colleges joined us, as part of the volunteering programme, between August and September. 13 of the students from XLRI Jamshedpur are working on various projects with our USF and ART departments. On the other hand students from the School of Inspired Leadership (SOIL) are collaborating with our Fundraising, USF, and ART departments on 4 different projects.
Another piece of good news for our readers is that we recently signed an MOU with TresVista, U&I, WhiteHat Jr., who will be mentoring our Shalinis and conducting virtual sessions for our USF, Udayan Ghar children, and AOP youngsters.
Regards,
Team Udayan Care
Your one act of kindness is capable of transforming and empowering many vulnerable lives. Click here to Donate.
| | |