The second COVID-19 wave continues to have a catastrophic impact on individuals, particularly in the rural and deprived communities of India. The epidemic hit the healthcare system earlier this year, causing a shortage of medical basics which devastated millions of lives. As a result, we have been helping our children through Technical Support and Emergency Response Funds, since April 2021.
The epidemic has had an impact on how we run our programmes too; for example, the closure of schools meant we had to come up with new strategies to keep Udayan Ghar children and Udayan Shalini Fellows in school. Our teams' mentality of "giving up is not an option" allowed us to devise new strategies to assist not only our beneficiaries, but also their families, during these trying times.
Employees and mentors at Udayan Care are working tirelessly across all programmes to ensure that their vulnerable beneficiaries have the resources they need to combat the pandemic; their dedication to cause is inspirational.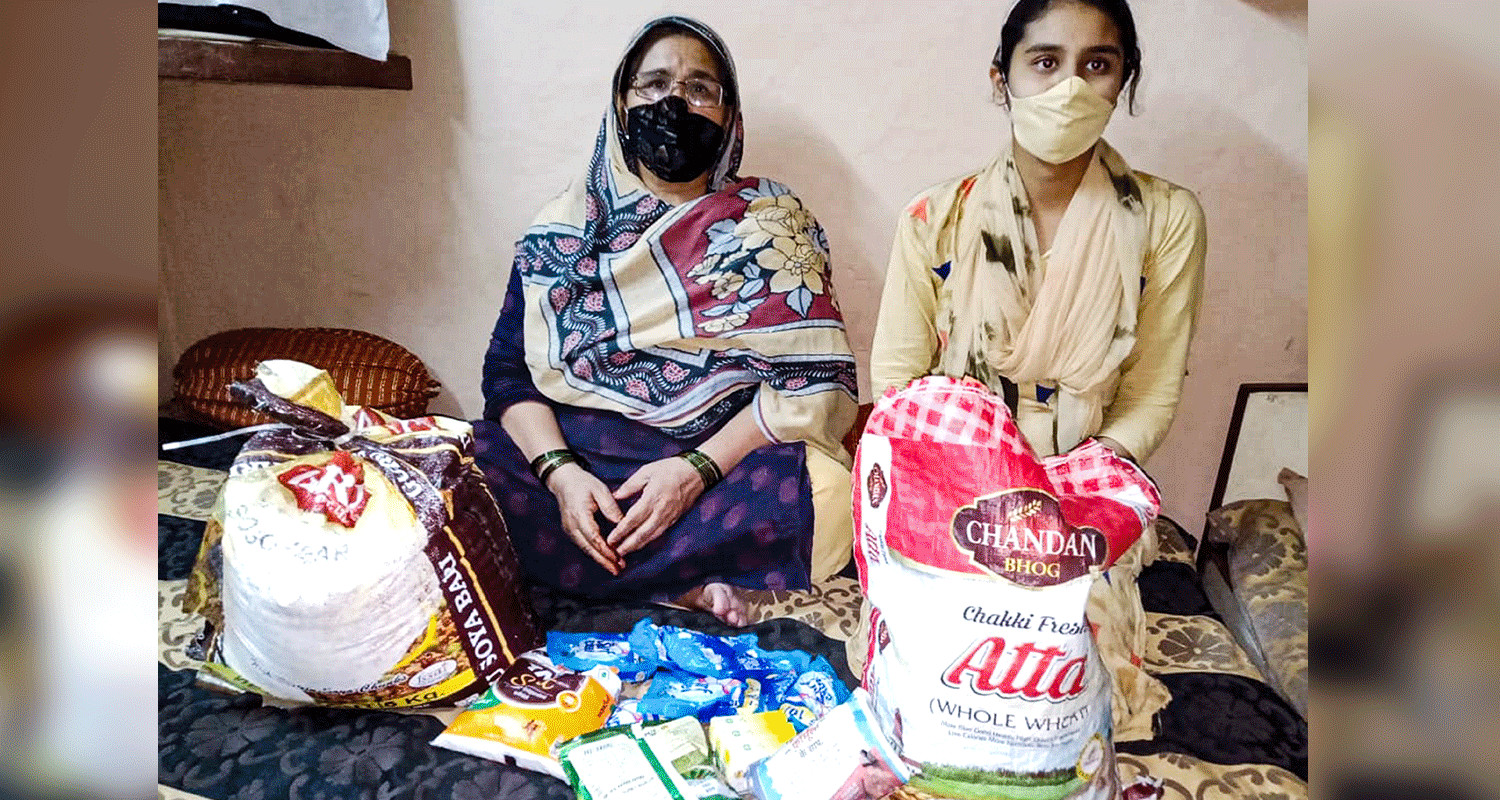 In continuation to the last year's Emergency Response Fund, this year once again a fresh need assessment was undertaken of our beneficiaries. The USF team ensured that Shalinis and their family members did not face financial hardships, and therefore once again a total of 2779 Shalinis were helped through ERF 2.0, either financially or through ration packages provided by generous contributors, across India in 21 chapters. A similar survey was done to identify youth from our livelihood programmes and similar help was extended to them also.
A digital survey was again launched, like last year, to determine the digital gap and smartphone access among Shalinis. Based on the sample size of 3911 we deduced that only 2220 (57%) Shalinis owned a smartphone, while 1681 (43%) did not have any. Accordingly, we placed orders for cellphones which are being distributed in phases.
Prevention of the crisis as well as treatment of those already infected, was a unique challenge thrown at the Udayan Ghar care givers. Children and care staff in each home were trained about the importance of having a healthy routine, maintaining good health, engaging in breathing exercises etc. Thermometers, oximeters, masks, specific footwear, sanitizers, gloves, PPE kits and other protective gears were provided to each home, with separate instruments for those infected with the virus. Recently, one of our donors made available oxygen concentrators for children and staff in need of emergency care.
#YoungWarriorMovement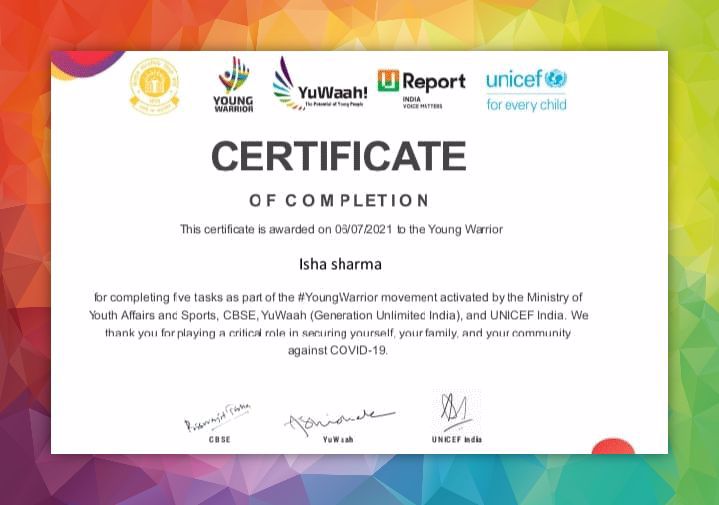 The 'Young Warrior Movement' has been initiated by the Young People, Ministry of Youth Affairs (MoYAS), Ministry of Health and Family Welfare (MoHFW), YuWaah, UNICEF and 1,350+ partners, to engage youth to take action against COVID-19, the campaign cumulatively impacted the lives of 50 million people across India. Through this movement, young people are engaged in easy real-life tasks to encourage families and community members to get vaccinated, curb COVID-related misinformation through fake-news busting tools, promote and amplify information on COVID-appropriate behaviour, were amongst other important activities. Youth from our programmes like Udayan Shalini Fellowship,
Udayan Care IT Programme
and Udayan Ghar Programme, joined this inititative to combat COVID-19.
Over 2600 of our youth became 'Young Warriors' by completing 5 online tasks and won certificates for their involvement. They learnt new skills and improved their knowledge about COVID appropriate behaviors.
Taking Care Giving to Next Level
Workshops and trainings are a way of life for all our programmes. Our caregivers of the
17 childrens' homes (Udayan Ghars) were given a refresher training in 'Effective Caregiving' to ensure a positive environment for the children, especially during the difficult times of the COVID-19 crisis. This comprehensive training included legal requirements for working in a Child Care Institution, how to recognise Mental Health difficulties faced by children. The pre & post assessment tests proved the participants enhanced knowledge and skills in care giving.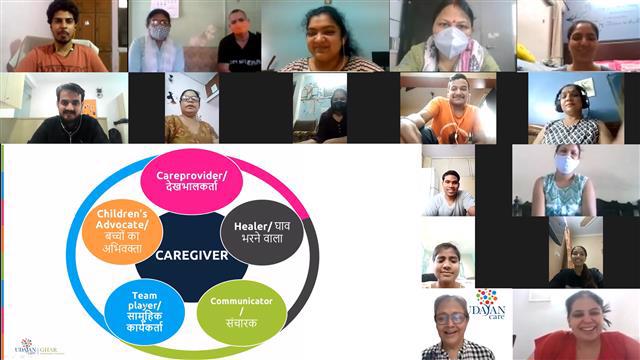 The first session on IKIGAI was conducted with our little ones. This session focused on teaching Life Skill Development to them. The idea behind it was to help them take the first step towards developing insights about themselves, and the world around them. Life skill Advancement Bootcamp, the second session was dedicated to the development of skills essential for adolescents, communication and personality development. The third session in the series was Career Advancement Bootcamp which attempted to develop career oriented skills among the young adults with focus was on imparting basic employment skills such as honing introductions skills, resume writing and preparing for an interview.
Yoga Across Our Programmes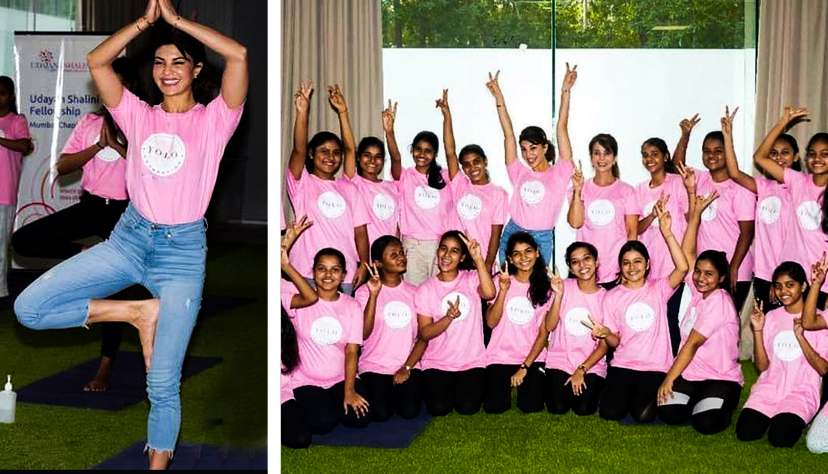 International Yoga Day celebrated across various Chapters on 21st June 2021, was no less than a treat to our Shalinis. Yoga is something which not only ensures physical fitness but also effectively addresses the growing mental health concerns in these stressful times. The event became even more special when famous actress Jacqueline Fernandes and mental wellbeing coach Vrinda Grover joined our children and Shalinis, and guided them about the benefits of staying physically and mentally fit.
Not Just Training Them, but Making Them Job Ready
At Udayan Care IT Center, apart from training our students on IT skills, we also aim to teach them "How to prepare for an interview" etc. On 30th Jun' 21 we organized a session on this topic, in collaboration with Tally Education Pvt Ltd. (TEPL). TEPL has been working with us since 2018, and provides certification support to our students pursuing
E-Accounting (Tally PRO) courses. The session was facilitated by Ms. Shalini Sharma (Prof – Economics, Christ Deemed to be University, Delhi NCR)
We all know that Teamwork is the success mantra for every successful project. In Udayan Care IT Centre Programme we firmly believe in the same. To strengthen the bond between our teammates, we recently organized a session on "Teamwork" the IT centre staff members. The session was addressed by Mr. Chetan Chauhan who has 11 years of experience in the field of trainings & developing strategies for operations management. During the session, Mr. Chetan spoke about the right approach to deal with conflicts and 5 effective ways to help one resolve them.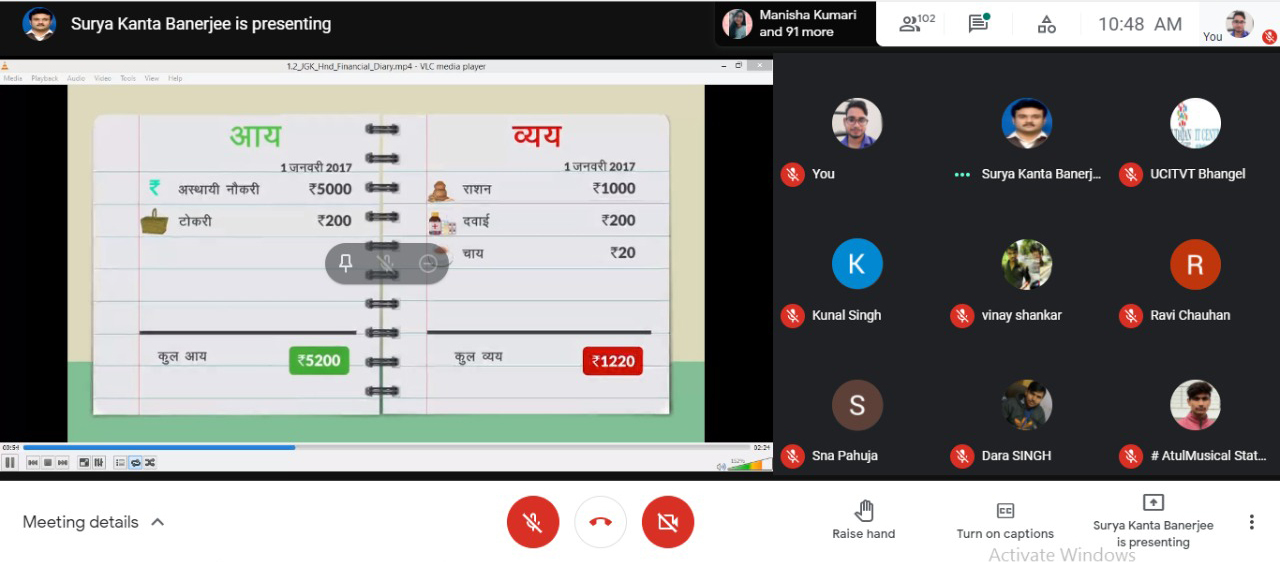 We also inducted new student batches in other online training courses on holistic development and Financial Literacy. The sessions helped the students be more aware of HR norms, PF laws, government policies, savings, spendings etc. Mr. Suryakant Bannerjee got connected virtually from Kolkata to hold a long session on "JaaduGinniKa", a crisp discussion on the importance of savings. Another similar session was taken by
Mr. Jitender Sachdev on "Borrowing" during the session our students learnt about the government policies, education loans etc.
Sapno Se Manzil Tak Ka Safar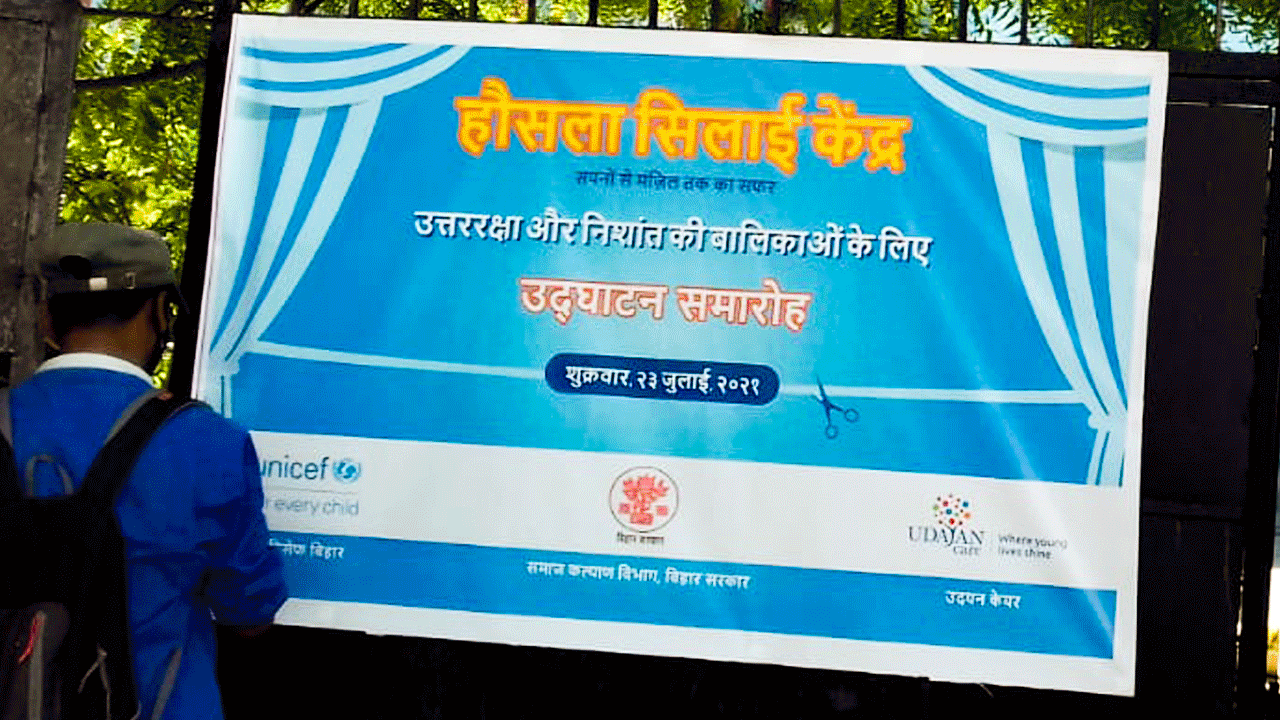 In Patna, the "Hausla Stitching Centre" for girls at a Children's Home and Aftercare Home was recently inaugurated, which is an outcome of many months of collaborative work with the state. The centre is part of the Udayan Care Aftercare Project with UNICEF and the state. Currently, the project aims to set up demonstrable models of care in four residential care homes, working with more than 200 children and youth. It also includes capacity building of the district child protection functionaries on transition planning and aftercare. Individual Care Plans (ICPs) have been developed along with exploring the best possible intervention and linkages for them. A similar model is also being implemented in Madhya Pradesh with support from the UNICEF state office and the state government.
Udayan Care's Aftercare Outreach Program (AOP), started amidst the pandemic, with over 50 youth last year, to support youth in their holistic upbringing. The positive results have enthused us to expand the programme to other parts of the country, this year.
Suman, who spent his childhood in a Delhi-based Child Care institution, since he was 6 years old. He joined the AOP's first cohort in August 2020, after turning 18. With close support and handholding, he completed his Digital Marketing Course from the Indian Institute of Computer Science, and also interned with the Hospitality Programme of Yuvaparivartan. He is now undergoing his on-the-job training at Ginger Hotel, Delhi.
"I hope all Aftercare young people are able to get the support I got, and be able to find their dream jobs" says Suman, when asked about his AOP experience.
ICB Editorial Board Expanded
Our academic journal, Institutionalised Children, Explorations and Beyond (ICB), being published since 2014 bi-annually, and with SAGE since 2020, saw its 18th editorial board meeting taking place, virtually, in July 2021. The Board members participated and guided the next steps for ICB, with respect to expanding the scope of the journal, enhancing collaborations with researchers and universities, narrowing down themes of relevance for the Special Edition issues, future partnerships to boost the reach and impact of the journal, expanding the Editorial Board and improving the efficacy of internal operations in coordinating ICB. Dr. Zubair Meenai, (Professor and Honorary Director, Centre for Early Childhood Development & Research, Jamia Millia Islamia University) has been included as our new Book Editor from July 2021.
Attracting Local and Global Volunteer Support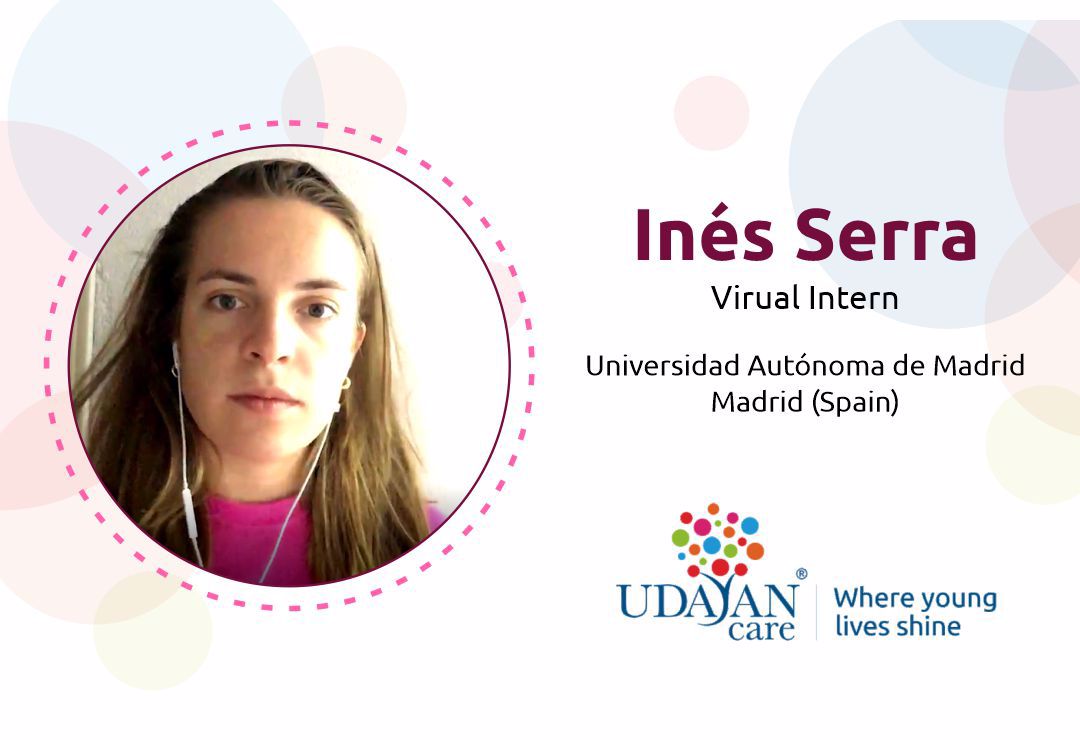 As a part of International internship programme the volunteer team engaged with Inés Serra from Universidad Autónoma de Madrid, Spain, who was connected with us through our Advocacy, Research and Training Department (A.R.T.) where she worked on a research paper on "Developing a Personal Advisors system for Care Leavers in India".
Between the months of June and July, a group of interns from University of Petroleum and Energy Studies (UPES), Dehradun, also connected with our A.R.T. department on the CAFO project. They were a part of collecting data of care leavers and interviewing them.
The other volunteers connected with the volunteers department helped the team create and set up the Instagram handle and devise social media strategy for Udayan Care Volunteers Programme.
Najmin Sultana, daughter of a casual labour, belongs to an underprivileged family from Kolkata. She has a clear vision and a strong desire to achieve great things in life. Following her admission in Udayan Shalini Fellowship; instilled with a positive attitude and supported with a friendly environment through effective mentoring, career counselling and other activities that busted her difficulties, and empowered her to take positive decisions. After successful completion of her M.Sc in Mathematics from Aliah University, she is currently working in Uttarbanga Khetriya Gramin Bank as an Assistant Manager.
Manas was found abandoned on the streets of Greater Noida. With no where to go after being deprived of parental care at such a young age. A child with Intellectual Disability, with no speech, no understanding about social life, inability to adapt to the surroundings. Manas was leading a life where there was no breakthrough. A caregiver, a social worker and a counselor joined forces in providing the necessary supervision, protection and focus to look after Manas at Udayan Ghar. All of them collectively educated Manas on how to deal with commands and further understand them, helping him develop his basic life skills, like toilet training etc. After 1.5 years of our rigorous efforts Manas is able to give non-verbal cues or ask for assistance, and he also understands and recognizes voices of his primary caregivers and also comprehends different tones of voices.
The kids at Udayan Ghar enjoy playing with him and he has also developed affection and attachment towards them and his caregivers.
Neha, a young enthusiastic girl, who is currently living at Khora colony, whose parents had migrated to Delhi from Bihar many years back, for better Livelihood. She was always interested in her studies and has been a bright student. After the completion of 10th exam, she decided to take up Commerce stream to fulfill her dream of becoming an Accountant in a reputed company. Neha always wanted to pursue a regular college but due to financial constraints she decided to pursue B.Com course through distance learning.
Neha completed her three months training in E-Accounting (Tally ERP9) from Udayan Care's Noida IT Centre, and with the support of the placement team, got the opportunity to work in a CA firm called "Credence Tax Advisors", as an Accounts – Intern, for a 4-digit stipend amount. Though she has still a long way to go, this job is a ray of hope for her, and her family..
This journey wouldn't have been possible without the dedication, passion and perseverance of all of these dedicated Udayan Care employees and mentors. And, as we look forward, we are excited to empower millions of more individuals by creating a better world for these children. Thank you everyone for being on this journey with us. Please continue to walk with us. Together, let's keep our children safe and give them the love, care and support that they deserve.
Regards,
Team Udayan Care
Your one act of kindness is capable of transforming and empowering many vulnerable lives. Click here to Donate.
| | |