Dear Shalini,
The onset of spring is bringing a splurge of energy and vitality into our lives. May this energy be synchronized perfectly to build, secure and empower our communities. The very idea of accepting and appreciating ourselves transcends us to a whole new dimension of creativity which can help largely in carving the growth stories. Even unforeseen disasters like COVID cannot dampen our spirits!
Happy to share that we have just completed 27 years of empowering young lives on February 7, 2021. We extend our gratitude to everyone who have been supporting us in this journey of 27 years, of pure passion and compassion!
The United Nations declared 2021 as the International Year of Creative Economy for Sustainable Development at the 74th UN's General Assembly. Thus, creativity is at the centre stage of all progress and stability. Social changes begin with people. But, no community can grow in isolation. Change is all around. We need to join hands to secure the positive changes around us. Read through this edition to explore how we are helping in making a creative Economy for Sustainable Development, with our small, strategic and consistent steps.
Udayan Shalini Fellowship programme converted March 8, 2021, the International Women's Day, to a 2-day summit of glorifying the women achievers across India. The event was themed "Celebrating Change – Be Authentic, be you".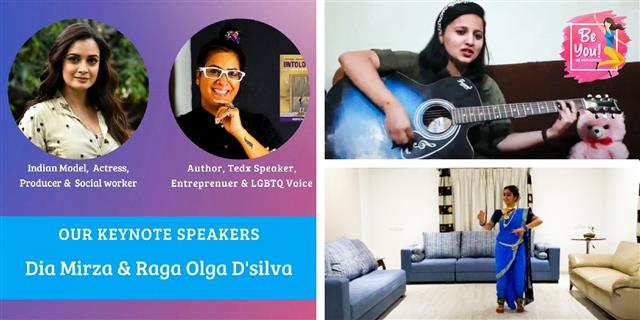 The event was ably moderated by our alumnae, Ms Smita Verma and Ms Neha Siddique. We were highly indebted to have Ms Diya Mirza (Model, actress, producer and social worker) and Ms Raga Olga D'silva (Author, TedX Speaker, Entrepreneur and LGBTQ voice) as our keynote speakers and chief guest respectively. The event included panel discussions with various women veterans from different sectors around accepting ourselves genuinely with our inherent traits and tributes. The speakers shared their life journeys to inspire, guide and motivate our shalinis to set realistic goals and accept our authentic selves.
Udayan Shalini Fellowship continues to spread the inspiration and relevance of education among girls from economically weaker sections of the community. We completed 3 online induction ceremonies in February 2021 at our Mumbai, Pune and Thane chapters, thereby building a ripple of hope and ambition around them, completing the cycle of new inductions for the year 2020-21, talking into our fold over 1000 new Shalinis.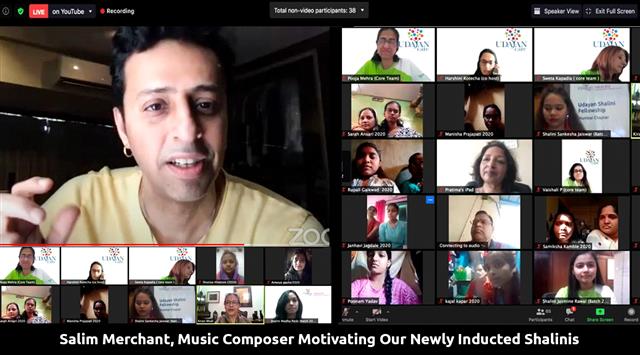 Bounce Back – adidas-Udayan Care Winter Carnival (Virtual)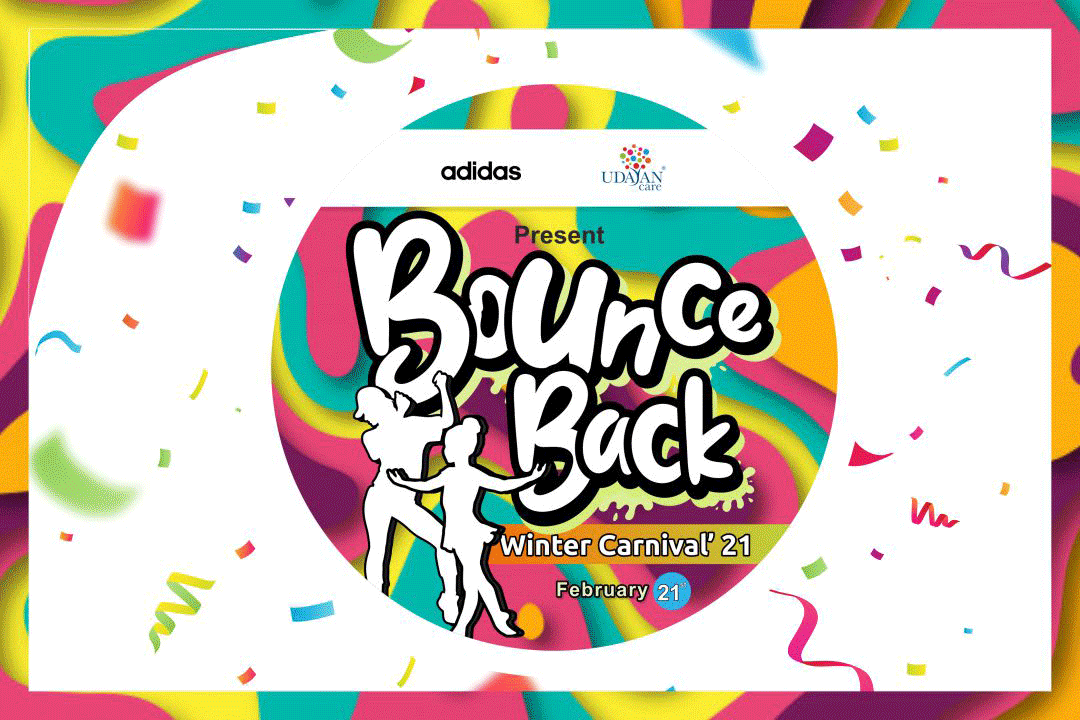 Hope and resilience should be the prime ingredient of building better lives, especially during the Covid era. Bounce Back, our current theme of the first-ever virtual adidas-Udayan Care Winter Carnival brought and highlighted the resilience, endurance and creativity shown by our Udayan Ghar children during the pandemic times. 250+ kids and youth, 100 staff members and mentor parents, Mr Savio Dsouza, Digital Brand Commerce Director-adidas, senior management and volunteers from the adidas India team, Samhita team, and numerous guests joined together to enjoy the day filled with fun and excitement. The day culminated with the wonderful mix of lively group dances, gimmicky AdMad Acts, quiz sessions, rib-tickling mimicry by Mr Riyaz Indian, and an astonishing magic show by Mandar
the Magician.
International Women's Day: Celebrations, Commitment, Lessons and Learnings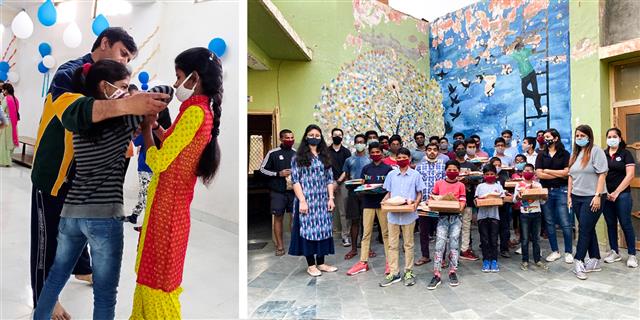 Udayan Care Kurukshetra Information Technology Centre, a girls-only IT training centre, and Noida IT centre celebrated the "Choose to Challenge" campaign on the eve of International women's Day. The former arranged the self-defence training session for the 25 girls of the centre by Mr Pradhuman, a black belt champion
of Karate.
The 110 children and young adults were overjoyed when 43 officials from MG Motor joined our 14 Udayan Ghars in the group of 2-3 members on March 8, 2021, International Women's Day. We express our heartfelt gratitude to Mr Rajeev Chaba, Managing Director, MG Motor for spending quality time, sharing inspiration and gifting, laptops, goodies and smiles to our children. They had interactive sessions with the team MG motor, thereby recognizing and applauding the women achievers from all walks of life.
Advocating through Meaningful and Strategic Moves
Drawing on some of the experiences and the research evidence of leading researchers and practitioners in the field, ICB in collaboration with SAGE publications, organised a webinar titled "Impact of COVID on Children and Youth in Alternative Care" on March 25, 2021. This Webinar hosted participants from many countries, with presentations from esteemed speakers, including Mr Niels Peter Rygaard (CEO Fairstart Foundation and child psychologist), Mr Martin Punaks (International development and child protection specialist, Ms Shubha Murthy (Deputy Chief Operating Officer at SOS Children's Villages International),
Dr Monisha Nayar-Akhtar (Founder, Indian Institute of Psychotherapy, Editor in Chief- ICB), and Dr Kiran Modi (Founder Managing Trustee, Udayan Care, Liaisoning Editor, ICB).https://journals.sagepub.com/toc/ICB/current
Thoughtful Interventions Bestowing Wings to their Dreams
With the thoughtful interventions and collaboration of the staff of Udayan Care, Bhopal Aftercare Home staff, and officials of the Women and Child Welfare Department, Madhya Pradesh, 7 girls secured their jobs in a job fair organized by Vision Career Concept (VCC). Their achievement is mirroring their resilience and ambition to succeed in life, which got fortified with mentoring and technical training of Udayan Care.
To the Community, By the Community, For the Community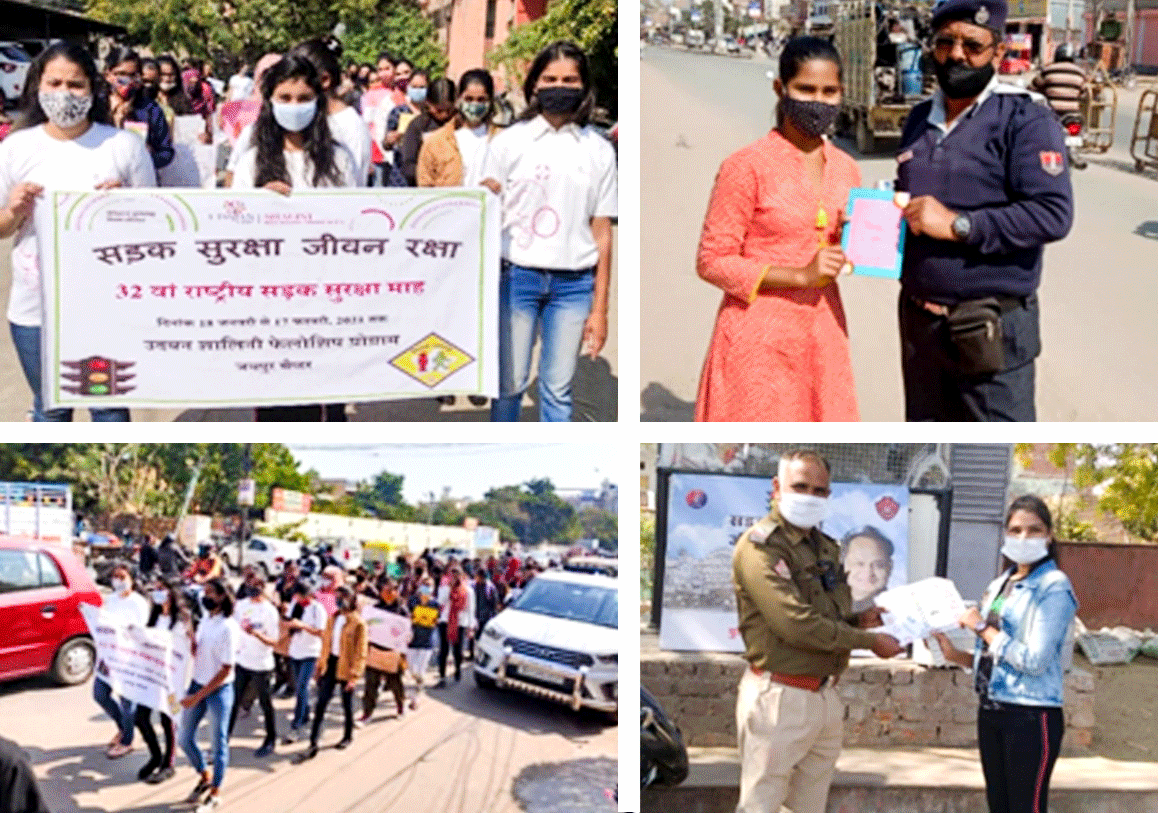 With Giving back at the core of the philosophy of Udayan Care, we stretch our capability and possibility to instil the same in our youth and children. Recently, a cleanliness drive was executed with collaborative efforts of Udayan Care, Jaipur, in Jhalana wild area team, the forest department and Eco Rescuers Foundation to clean the area of Jhalana Leopard Reserve. With the able leadership of Ms Rukmani Haldea, Convener, Udayan Care, Jaipur Chapter, 10 girls from Udayan Ghar, Jaipur contributed actively to the clean forest campaign.
National Road Safety Month, a month-long campaign from January 18 to February 17, 2021, was executed successfully by Udayan Shalini Fellowship, Jaipur chapter. With the theme of "Sadhak Suraksha - Jeevan Raksha", Shalinis created road safety posters and Thank you cards for the traffic police. The girls also initiated a rally to spread the awareness and threats of traffic rules.
24 Shalinis from Udayan Shalini Fellowship, Mumbai along with 3 Mentors actively organized a Juhu beach clean-up drive. They collected 25 garbage bags from the beach and distributed Thank you cards as a token of appreciation to the volunteers and police officers. Apart from cleansing the area, their drive also highlighted the need and awareness of environment conservation and cleanliness around us.
Stories to lift Your Soul
Can you imagine the joy, thrill and excitement of a young boy who dreams to secure a stable career with strong financial security, but has no rays of hope or support around him? Tajuddin, a DIT student from KaushalKalp Udayan Care Information Technology Centre, gleamed with happiness and hope when a laptop came to his home for the first time, with the support of KaushalKalp and Udayan Care. He belongs to a middle-class family, which was struggling to afford his education. His timely association with Udayan Care IT Centre opened doors of possibilities for him. He completed his course and secured a job in the capacity of a Data Entry Operator at Perfect Info Solutions Pvt Ltd, Janakpuri, thereby uplifting the economic condition of
his family.
| | |